Description
Canon Image Class LBP6230dn Laser Printer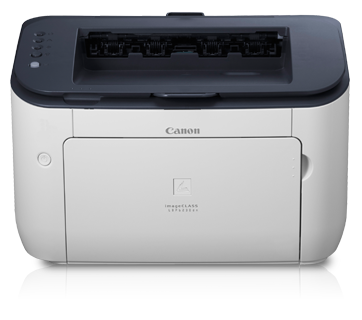 Print
Printing Method
Monochrome Laser Beam Printing
Print Speed
Simplex:
A4: Up to 25ppm
Duplex:
A4: Up to 7.7spm (sheets per minute)
Print Resolution
600 x 600dpi
Print Quality with Image Refinement Quality
1200 x 1200dpi (equivalent)
2400 (equivalent) x 600dpi
Warm-Up Time
(From Power On)
10secs. or less
First Printout Time (FPOT)
Approx. 6secs.
Recovery Time
(From Sleep Mode)
Approx. 0.5sec.
Print Language
UFR II LT
Paper Handling
Paper Input (Standard)
250 sheets (based on 80g/m2)
Multi-Purpose Tray
1 sheet (based on 80g/m2)
Paper Output
100 sheets (face down)
(based on 80g/m2)
Paper Sizes
Standard:
A4, B5, A5, Legal*1, Letter, Executive, 16K, Envelope COM10, Envelope Monarch, Envelope C5, Envelope DL
Custom (Width: 76.2 – 216mm x Length 187 – 356mm)
Multi-Purpose Tray:
A4, B5, A5, Legal*1, Letter, Executive, 16K, Envelope COM10, Envelope Monarch, Envelope C5, Envelope DL/ Index card
Custom (Width: 76.2 – 216mm x Length 127 – 356mm)
Paper Weight
Standard:
60 to 163g/m2
Multi-Purpose Tray:
60 to 163g/m2
Paper Type
Plain paper, Heavy Paper, Transparency, Label, Envelope, Index card
Duplex Printing
A4, Letter, Legal*1(60 – 105g/m2)
Connectivity and Software
USB Interface
USB 2.0 High Speed
Network Interface
10 Base T / 100 Base Tx
Network Protocol
Print:
LPD, RAW, WSD-Print
Management:
SNMPv1, SNMPv3, SLP
TCP/IP Application Services: WINS (IPv4), DHCP, BOOTP, RARP, DHCPv6 (IPv6), Auto IP, mDNS, DNS, DDNS
Network Security
IP/Mac address filtering, HTTPS, SNMPv3, IEEE802.1x
Mobile Print
Canon PRINT Business
Compatible Operating Systems*2
Windows 8.1 (32 / 64-bit), Windows 7 (32 / 64-bit), Windows Server 2012 (32 / 64-bit), Windows Server 2012 R2 (64-bit), Windows Server 2008 (32 / 64-bit), Windows Server 2008 R2 (64-bit), Mac OS 10.7.x – 10.9*3, Linux*3, Citrix (FR2 and later)
General Specification
Operation Panel
4 LED indicators, 3 operation keys
Device Memory
64MB
Dimensions (W x D x H)
379 x 293 x 243mm
Weight
Approx. 7.0kg
Noise Level*4
During Operation:
Sound Power Level:
6.77B or less
Sound Pressure Level:
Approx. 52dB
During Standby:
Sound Power Level:
Inaudible*5
Sound Pressure Level:
Inaudible*5
Maximum Power Consumption
1100W or less
Average Power Consumption
During Operation:
Approx. 420W
During Standby:
Approx. 1.4W
During Sleep:
Approx. 0.9W
TEC
(Typical Electricity Consumption)
0.7kWh/week
Operating Environment
Temperature:
10 ~ 30°C
Humidity:
20 to 80% RH (no condensation)
Power Requirement
220 – 240V (±10%), 50 / 60Hz (±2Hz)
Toner Cartridge*6
Cartridge 326:
2,100 pages
(Bundled Cartridge: 900 pages)
Monthly Duty Cycle*7
Up to 8,000 pages
Recommended Monthly Print Volume
500 – 1,500 pages
*1
Legal refers to paper measuring 215.9 x 355.6mm (8.5 x 14 inches).
*2
Check www.canon-asia.com for the latest printer driver.
*3
The latest drivers for Mac OS and Linux can be downloaded here when available.
*4
Tested in accordance to ISO 7779 and declared per ISO 9296.
*5
"Inaudible" means each sound pressure level at bystander's position is less than ISO 7779 absolute criteria for background noise level.
*6
Toner cartridge yield is in accordance with ISO / IEC 19752.
*7
Monthly Duty Cycle value provides a means of comparison for product robustness in relation to other Canon laser devices, and does not refer to actual maximum image output per month.
 Please refer to individual country / region websites and respective sales offices for product availability.
 Specifications, availability and terms of offers may change without notice.
 Products / Services may be manufactured by and/or supplied to us by third party manufacturers / suppliers for distribution / resale (non-Canon brand products).